Talking Books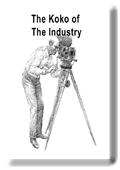 The Koko of the Industry: In the early days of filmmaking, the Koko was the producer, scriptwriter, cameraman, director all rolled into one! It's the early 50s; video tape had yet to be invented. If it wasn't 'live', it was shot on motion picture film. John Paul Kevin, newly arrived from Europe, attempts to crack the lucrative national TV sitcom market wit Panache, sex appeal and chutzpah, unique to him alone. A comedic recipe for disaster written by Alex Mogelon and narrated by actor Herb Goldstein.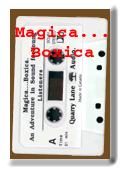 Magica Boxica: A sound box with magic powers takes Christopher, Laurie and their young listeners on a fun trip to the circus, the farm, the band concert and many other exciting places where they recognize familiar sounds and hear others, perhaps for the very first time. Ideal for the long car journey or play at home. Children will be fascinated and take pride in their ability to recognize animals, instruments and things of everyday life, merely by the sounds they make! To hear a sample click on a format: RealAudio (.ra) or MP3 (.mp3). You will need RealPlayer 7.0 - (it also supports MP3 files!)
The Yellow Monkey: Paul and Lorna Atkinson own "Aladdin's Lamp", a Washington antique gallery. The stoic Paul and stunning Lorna have a great deal more going for them: a lucrative blackmail operation, a 'shilling' scam at auctions, a pending 'sensible' divorce, Lorna's quirky lover David Tremblay and a $5 million insurance policy (payable to Lorna) on Paul's life! Written by Alex Mogelon and narrated by stage star Mary Ellen Mahoney, this is an exciting story of love, mystery and deception. To hear a sample click on a format: RealAudio (.ra) or MP3 (.mp3).
Torpedoed! : After being torpedoed in the turbulent mid-Atlantic in 1942, how did 35 sailors and civilians (with little food and water) survive for 10 days in a lifeboat that was built to hold 20? Oakley Bush's courageous adventure is told in this remarkable and true audio story, read by noted actor Walter Massey. To hear a sample click on a format: RealAudio (.ra) or MP3 (.mp3).
Copyright 2001, Quarry Lane Productions, All Rights Reserved.