Compact Discs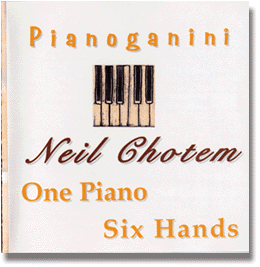 Introducing
Neil Chotem's
new CD
"Pinoganini"
One Piano Six Hands.

On this unique album Mr. Chotem performs some of his most interesting and loved compositions. Many date back to the 1940's but all with new and unique arrangements, for two three and six hands. This is vintage Chotem, rarely has he played with such energy, vigour and sensitivity.
Download the title track Pianoganini: MP3 (.mp3)
Copyright 2001, Quarry Lane Productions, All Rights Reserved.